8 Best Anxiety Apps – Top Phone Apps That Help With Stress Relief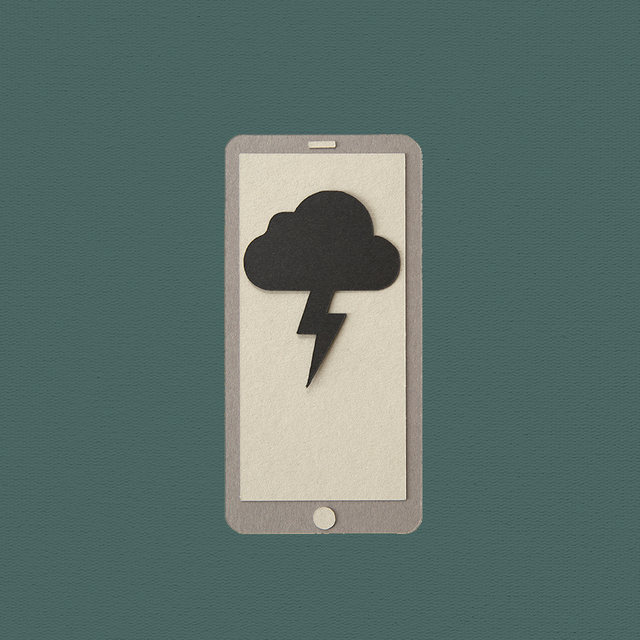 Getty Images
Start browsing for mental health apps on your phone and it's easy to get anxious just scrolling through all of the options. You're not alone if you feel like you don't know how to begin to address anxious tendencies, or even know where to start. There are more than 15,000 different apps and mobile services targeting anxiety available to download, says Stephen Schueller, Ph.D., an Assistant Professor of Psychological Science at the University of California Irvine. Schueller is also the Executive Director of PsyberGuide, a non-profit online resource that evaluates mental health apps for their credibility, user experience, as well as data security and privacy.
If you're experiencing anxiety at a particularly rough time of your life — or have been facing newfound feelings of anxiety during the novel coronavirus pandemic — you might simply type "anxiety" into the App Store or Google Play to get started. But some of the most popular wellness apps may be optimized for other purposes beyond addressing anxiety, Schueller says. "The research on meditation for anxiety is still mixed a little bit at this point," says Dr. Schueller. "There's so much content in these apps that sometimes it's hard to find those specific meditations that align with what you need.
Last year, PsyberGuide named the five best apps for people with anxiety; these apps feature evidence-based methods evidence-based methods shown to help with diagnosable anxiety disorders, but they may also benefit anyone experiencing anxiety or stress. Each one in the list represents the variety of different options and strategies available, Dr. Schueller says. But PsyberGuide project manager Martha Neary also recently expanded their selection to include more apps to use if you are currently social distancing during the COVID-19 outbreak.
To reap the most benefits, do a deep-dive into an app's features during the first week and use it for at least another month or two before deciding whether it's making a difference, Schueller advises. The same app won't work for every person, and they're just one single aspect of addressing mental health.
"Apps are not a replacement for treatment," Dr. Schueller states. "You do have to think about if you aren't in treatment, where you're going to get the human support and motivation." To find a mental health service provider in your area, check the Anxiety and Depression Association of America's Find a Therapist Directory. With that in mind, here are the eight best apps you can try for anxiety:
Advertisement – Continue Reading Below
1
ReachOut Breathe
"Sometimes when we're anxious, we shift into the fight-or-flight mode where we have these really shallow breaths," Dr. Schueller says. "Breathing exercises, especially in the moment, can actually counter some of those physiological measures that can happen." ReachOut Breathe implements this technique by guiding your breathing, telling you when to inhale and exhale. The uncomplicated interface can also measure your heart rate using your phone's camera.

User Review: "I work in the mental health field and find a simple app like this to teach deep breathing techniques useful. Plus, you can customize it."
Get it for free for iOS
2
Self-Help for Anxiety Management (SAM)
Developed by scientists in the U.K., SAM is an unusual app because it encourages users to think about situations that make them anxious and how they would think and act in each scenario. "What we see in anxiety disorders often is that people get trapped in this avoidance cycle where they avoid the things that make them anxious and therefore don't master the skills to cope," Dr. Schueller says. "One of the most effective treatments for anxiety disorders are exposure-based treatments, so things that actually get us to face our fears."
User Review: "I love this app so much. I have tried several apps for anxiety and none of them have worked because they were all centered around, and frankly their only feature was, meditation … This app has so many other ways to deal with it and help learn from and about it. Thank you SAM!"
Get it for free for iOS
Get it for free for Android
3
Pacifica
This app draws on a lot of strategies used in cognitive behavioral therapy, including progressive muscle relaxation. This guided technique can teach people with a generalized anxiety disorder to recognize the tension carried in their bodies and how to release those muscles, Dr. Schueller says. Plus, Pacifica has some research to actually supports that it is effective at reducing depression and anxiety in individuals.
User Review: "Pacifica, especially the premium version, has been invaluable to my mental health. It's got an array of tools for you to use daily, including mood trackers, meditations, health trackers, a hope board, thoughts, and goals. Each tool has a number of options to choose from, and it's likely you'll find at least one thing helpful to you and your situation."
Get it for free for iOS
Get it for free for Android
4
Mindshift
Whether you're struggling with general worry, social anxiety, perfectionism, panic, phobia, or another kind of anxiety, Mindshift offers customized tips depending on what you're dealing with. "A lot of apps tend to go wide in that, because they're commercial products, they want to try to attract as many people as possible," Dr. Schueller says. "This one is more specific, which I really like, and it walks people through these different areas to come up with tailored coping plans."
User Review: "I've had severe anxiety for the past 5 years, and when I was told about this app, I was initially skeptical. This is one of many things that helped improve it a lot. It's a fantastic resource/tool for tracking and managing it. I strongly recommend this."
Get it for free for iOS
Get it for free for Android
5
MoodMission
If you love playing games on your phone, try out MoodMission. This app rewards you for completing different types of challenges designed to benefit your mental health, like repeating a coping statement or going for a walk. "It gamifies this process of getting people to go out and do these missions in way that's more fun and engaging," Dr. Schueller says.
User Review: "I like that it gives you recommended strategies after each check-in and how it draws from a wide variety of coping mechanisms for you to use and you can choose which is best for you at that moment."
Get it for free for iOS
Get it for free for Android
6
Sanvello
Providing free access during the pandemic, PsyberGuide's Neary says that Sanvello is loaded with many different coping tools for newfound anxiety. If you consistently find yourself in a particular mood during anxious bouts, there are different activities you can complete within the service on your own. Just one feature of many, Sanvello's 'Thoughts' module allows you to search common conflicts you may be facing in your life, and empowers you to reframe the problem so that you feel like you can "fix" it in the moment.
User Review: "You can log exercise, meals, family time, and other habits (both good and bad), and there is a place to log your mood (which is made of three parts, you describe your mood on a good-to-bad wheel, and then you can optionally both tag words to describe your mood, and write out accompanying thoughts, which is good depending on if you do/don't have much time)."
Get it for free for iOS
Get it for free for Android
7
Wysa
If you're ever feeling like you'd like to try chatting through any feelings, there's a safe space to start in Wysa's AI chat feature. Tool packs designed for anxiety and isolation specifically will remain free during the COVID-19 outbreak. The app offers users progress monitoring, which means it'll actively check on how you're feeling routinely. If you find conversation helpful, the app also offers a real-life coach option that provides daily messaging as well as eight live therapy sessions for $99 per month.
User Review: "I am so glad that you guys have made this app to create a new bonding feature for people who don't know how to talk about their feelings with their friends, even families too."
Get it for free for iOS
Get it for free for Android
8
Balance
Meditation can be an effective tool against anxiety — and Balance incorporates meditative practices into most of its activities. If anxious thoughts or feelings actually keep you up at night, you might be interested in Balance's new sleep content, which uses audio guidance to help you get to a less stressful zone. Neary says the newer service is actually offering a free one-year subscription to curious users; simply email access@balanceapp.com for redemption instructions.
User Review: "[Balance] is minimal, almost zen-like to me. From the sound effects as you click through the various screens to the peaceful and calming voice of the female narrator of the meditations, it just works so well."
Get it for free for iOS
Advertisement – Continue Reading Below
Please follow and like us: