20 Teen Movies on Netflix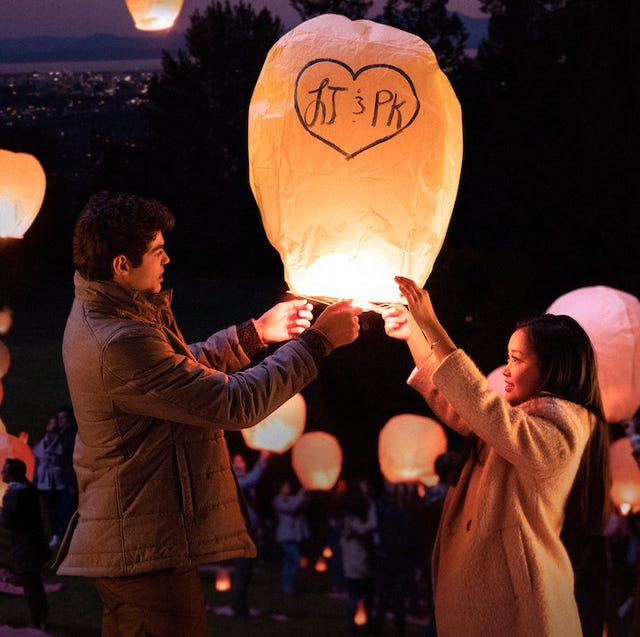 Netflix
What is it about the teenage years that make us want to revisit them over and over in movies? Teen movies are their own kind of nostalgia. Maybe it's because emotions during that age are so raw and powerful, they leave an impression, even years later. Maybe it's because the first blush of love is always the strongest. Or maybe it's because teenagers have absolutely no filter so the filthiest jokes come out of their mouths.
Whatever it is, you don't have to be a teenager to enjoy a good teen movie. Whether you want a heart-tugging romantic movie, an awkward cringe comedy, an all-encompassing melodrama, or a movie that uses high school as a metaphor for society at large, Netflix has a teen movie that'll fit the bill. (Especially for those romantic comedy fans: With movies like To All the Boys I've Loved Before, Dude, Candy Jar and The Kissing Booth, Netflix has swept all corners of the rom-com.) Hey, you can even find a teen sci-fi movie with elements of time-travel in there. Just remember, as you think back to your days of acne and locker combinations, what it took to make it through to the other side and into your adulthood.
Advertisement – Continue Reading Below
The Kissing Booth 2 (2020)
To All the Boys I've Loved Before: P.S. I Still Love You (2020)
Lara Jean, romantic heroine of To All the Boys I've Loved Before, has to navigate the ins and outs of her first real relationship — which gets even more complicated when a new boy enters the mix who may be an even better match for her.
WATCH NOW
The Half of It (2020)
Football-player Paul enlists Ellie, who makes money on the side by writing essays for other students, to write a love letter to a classmate named Aster Flores. The only problem? Ellie's in love with Aster, too.
WATCH NOW
To All the Boys I've Loved Before (2018)
By now, you probably know the tale of Lara Jean, whose meddling sister mails personal letters to her all-time top-five crushes. But this is the movie that gave Noah Centineo to the world, so there is absolutely no harm in watching it again.
WATCH NOW
RELATED: The Best Romantic Movies on Netflix
Dude (2018)
Four friends make a bunch of ill-advised decisions during the last two weeks of high school — not that any of us would know anything about that. Lucy Hale, Awkwafina, Kathryn Prescott and Alexandra Shipp star in this story of teens acting out.
WATCH NOW
Sierra Burgess Is a Loser (2018)
Or was this the movie that gave us Noah Centineo? Here, he plays Jamey, another sensitive heartthrob, this time opposite the shy and unpopular Sierra (Shannon Purser from Stranger Things). Sierra gets involved in a Cyrano de Bergerac-style situation where she starts a relationship with Jamey — except he thinks her phone number belongs to someone else. How long can she keep up the mistaken identity?
WATCH NOW
Candy Jar (2018)
Two ultra-competitive debate champs get thrown for a loop when when they have to stop facing off against each other and — uh-oh! — work on the same team. This movie is for anyone who loves rivals-turned-friend stories, like You've Got Mail or 10 Things I Hate About You.
WATCH NOW
Alex Strangelove (2018)
Like so many teenagers before him, Alex Truelove in a love triangle of his own. Only this time, he can't decide between Claire, his longtime best friend (as per usual) — or a boy named Elliot.
WATCH NOW
Dumplin' (2018)
If you're in the mood for something about self-love, this movie follows the plus-size teen (Danielle Macdonald), the daughter of a former beauty queen (Jennifer Aniston), who signs up for a beauty pageant to spite her mother — only to realize she's inspired others to try out, too.
WATCH NOW
RELATED: Why Everyone Is Obsessed With Netflix's New 'Dumplin" Movie
The Kissing Booth (2018)
Though Netflix famously doesn't release its box-office numbers, when this movie came out the company's Chief Content Officer, Ted Sarandos, told Vulture this was "one of the most-watched movies in the country, and maybe in the world." Perhaps its simple love-triangle setup is why it's so popular: It follows best-friends Elle and Lee (Joey King and Joel Courtney) as their relationship changes as they get older — and Elle develops a crush on Lee's brother (Jacob Elordi).
WATCH NOW
Deidra & Laney Rob a Train (2017)
When their mom goes to jail, Deidra and Laney hatch a heist plan to keep them out of foster care. While that sounds like a dour setup for a movie, it's actually a comedy! And it's made all the better by a performance from Ashleigh Murray, a.k.a Josie from Riverdale.
WATCH NOW
Lady Bird (2017)
Some movies have a romanticized view of the teenage years — Lady Bird does not. Instead, it follows a high school senior as she flounders through her last year of high school, trying to navigate her relationships with boys, old friends, new friends and her mother.
WATCH NOW
Carrie Pilby (2016)
This film follows an awkward teenage prodigy who, after she graduates Harvard (naturally), spends most of her life in her apartment, until a friend makes her a to-do list. The items on it? Make a friend, get a pet, find a job and so on. Everyone who's putting off adulting can relate.
WATCH NOW
Handsome Devil (2016)
This Irish film follows a young outcast at a sports-obsessed boarding school whose luck starts to turn around when he unexpectedly bonds with the school's star rugby player. Things get rough, though, when the homophobic atmosphere of the school starts to strain their friendship.
WATCH NOW
RELATED: The Best Irish Movies on Netflix
The Perks of Being a Wallflower (2012)
Based on the beloved novel by Stephen Chbosky (who also directed the movie), Perks is a swoony tale of first love, fitting in and mix tapes.
WATCH NOW
Scott Pilgrim vs. the World (2010)
In this graphic novel adaptation, arrested adolescent Scott Pilgrim wants to date Ramona Flowers — but first he has to defeat her seven evil exes. After the battles, can he learn what goes into a real relationship?
WATCH NOW
A Walk to Remember (2002)
If you like your teen movies to be of the weepy variety, this one promises to make you break out the tissues. In it, Mandy Moore plays a good girl who strikes up a romance with a rebellious teen after she's assigned to tutor him.
WATCH NOW
Clueless (1995)
An all-time classic teen movie, Clueless is famously an adaptation of Jane Austen's Emma, transported to a California high school in the mid-90s. It follows Cher, the teen who has everything figured out, until she decides to give one of her classmates a makeover.
WATCH NOW
This content is created and maintained by a third party, and imported onto this page to help users provide their email addresses. You may be able to find more information about this and similar content at piano.io
This commenting section is created and maintained by a third party, and imported onto this page. You may be able to find more information on their web site.
Advertisement – Continue Reading Below
Please follow and like us: