20 Best Lingerie Brands – Best Stores for Intimate Apparel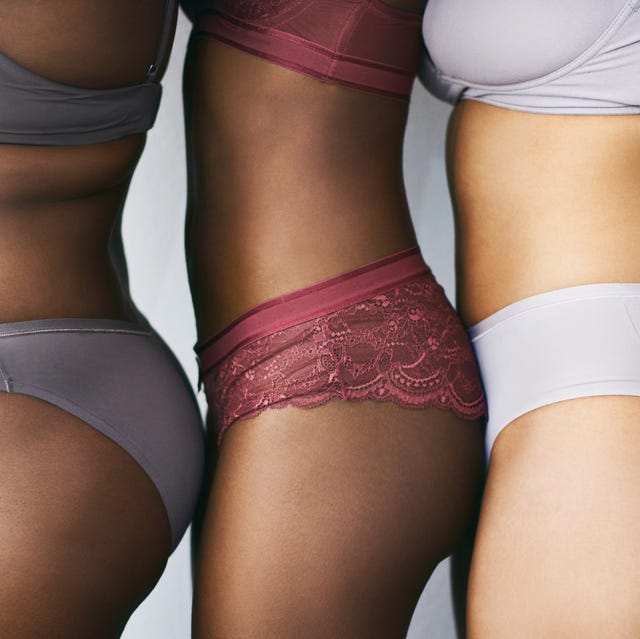 Delmaine DonsonGetty Images
When it comes to intimate apparel, everyone has their own preference and style. While some might like the ultra-strapy, barley there pieces, others might like something a bit more sleek and simple. No matter who you are and what you like, the lingerie you buy should be all about what makes you feel confident in your own skin.
Women now have so many different intimate apparel companies to chose from. Brands are realizing that no two women are exactly alike, and trying to fit us into a couple of boxes, especially when it comes to something as important as bras and underwear, just isn't going to cut it.
However, with all of the names that have emerged in the market, it can be hard to know where to begin. To help you out, we have rounded up a list of 24 of the best lingerie brands to help you find new pieces to fit your style.
Advertisement – Continue Reading Below
Cotton Essentials Bralette
Savage x Fenty
savagex.com
$24.95
Rihanna blew up the lingerie market when she decided to enter the game with her brand Savage x Fenty. Not only did she create a size inclusive lingerie brand, but she also made lingerie affordable. The styles include everything from simple lace bralettes to sweet corsets and teddies to leather garter belts.  
24/7™ Classic Uplift Plunge Bra
Third Love
thirdlove.com
$68.00
If you haven't heard about Third Love yet, you are seriously missing out. Starting in 2012, founders Heidi Zak and Ra'el Cohen, devoted their lives to creating bras and other intimate apparel that actually fit. This brand offers bras in 78 different sizes, and trust me when I tell you that when you put on a bra that truly fits, you will feel more sexy than any lacy lingerie could make you feel. 
Plumetis Fuller-Bust Bra
Nubian Skin
nubianskin.com
$44.25
This brand focuses on skin-tone lingerie and hosiery for women of color. Whether you're looking for an everyday bra or something a little more special, Nubian Skin has it, and at a great price.
Calm Lace Underwire Demi Bra
NATORI
nordstrom.com
$46.50
Natori is a brand that has grown and expanded outside of the intimate apparel market because of their success with lingerie. If that doesn't prove they make incredible intimates, I don't know what does. Natori's pieces are sexy and sophisticated, and once you try them you will never want to fo back. 
Teddies & Bodysuits
Hanky Panky
hankypanky.com
$100.00
Hanky Panky is a bit of a one-stop-shop. They have endless colors and styles to chose from when it comes to teddys, slips, bodysuits and more. 
The Crochet Lace Bralette
Lively
wearlively.com
$35.00
Lively is using their platform to make women feel sexy by making them feel smart, healthy, active and outgoing. Their goal is the "blur the lines" of lingerie, activewear and swim, making shopping for all the bare necessities a whole lot easier. Bras are available from size 30A to 40DD and underwear from XS to XXXL. 
Lively deserves an honorable mention as they make bralettes specifically for bustier women. 
The Balconette
CUUP is a newer brand that has taken the lingerie market by storm. Their mission is all about making bras and undergarments that are right for each individual. Their styles are very simple, and most of their products come in a soft, sheer fabric that never has too much padding.  
Lingerie Set
Anya Lust
anyalust.com
$375.00
This is a luxury brand that you should definitely keep on your radar for special occasions. Each set is sophisticated, sensual, and ultra feminine. 
Pretty Flowers Baby-Doll
Intimissimi
intimissimi.com
$65.00
Intimissimi is an Italian lingerie brand making classic styles at affordable prices. If you are looking for something with lacy elegance or anything silky, from slips to matching sets, Intimissimi is your one stop shop.  
Cotton Plunge Bralette
SKIMS
nordstrom.com
$36.00
Although originally designed as shape wear, SKIMS also creates a range of bras, underwear and more in classic styles and colors. SKIMS is both affordable and comfortable. This stuff sells out quick, so if you are interested, you'll have to act fast.  
Aerie Palm Lace Plunge Padded Bralette
Aerie, a company that is a part of the American Eagle enterprise, was one of the first brand to recognize the need for change within the lingerie industry. Long before others, they started to embrace the fact that we all look and feel different, and we need lingerie that will make us feel confident and sexy as individuals.
Soft Lace Unlined Balconette Bra
True & Co
trueandco.com
$25.00
True&Co is another newer brand to join the intimate apparel party. They make pieces that are comfortable and soft, while being supportive. Every piece is designed to make women feel confident and show off the skin they live in.  
Cocoa Bralette
Nude Barre
nudebarre.com
$35.00
Offering 12 inclusive nude shades for their bras, underwear, and tights, Nude Barre is a favorite. You can even purchase the full set of swatches for $6 to help you match your skin tone. 
Floral Lace-Trim Chemise
Lane Bryant
lanebryant.com
$46.95
Feeling confident and sexy is for everyone and Lane Bryant does an excellent job of reminding us that. They create all kinds of apparel, including lingerie that is stylish and sexy. 
Lucy Bralette
HONEYDEW INTIMATES
nordstrom.com
$24.00
Styles as sexy as this usually come with a big price tag, but Honeydrew Intimates has definitely created a super sexy item with a super sexy (and low) price tag. 
Sieve Non-Wire Bra
Negative Underwear
negativeunderwear.com
$60.00
For Negative Underwear, the name of the brand says it all. They are based around the idea of simplicity, and are making comfortable lingerie with no frills. Started in 2014, Negative Underwear makes bras, underwear, loungewear, sleepwear and more for all of your sex comfort needs. 
Magnolia Garter Belt
Cosa Bella
cosabella.com
$79.50
If you are a big fan of lace, Cosa Bella is great place to start your lingerie hunt. Cosa Bella is another Italian lingerie brand that has been making intimate apparel since 1983, and thrives off of creating timeless pieces for everyone.  
Jules Set
Taryn Winters
journelle.com
$65.00
Although a bit on the pricer side, Taryn Winters is a luxury lingerie designer with a lot of experience. She creates lingerie with elegance and grace in mind, and wants her products to embody femininity. 
New Arrivals
Only Hearts
journelle.com
$125.00
Founded by Helena Stuart in 1978, Only Hearts has been making top tire lingerie for a long time. This ethically made brand is based in New York City, and is your go-to spot for simple yet sensual lingerie, with sheer and silky styles that can be worn both in the bedroom and outside or the house. 
Anais Bikini
Journelle
journelle.com
$58.00
Journelle is a multi-brand lingerie company that takes pride in being run by women for women. Their collections are diverse and fashionable.
Plus, they have a Find Your Size guide on their site, so if you are struggling to figure out you measurements, they can help you out! 
This content is created and maintained by a third party, and imported onto this page to help users provide their email addresses. You may be able to find more information about this and similar content at piano.io
This commenting section is created and maintained by a third party, and imported onto this page. You may be able to find more information on their web site.
Advertisement – Continue Reading Below
Please follow and like us: