12 Cute '80s Outfits – Best 1980s Fashion Trends and Looks to Copy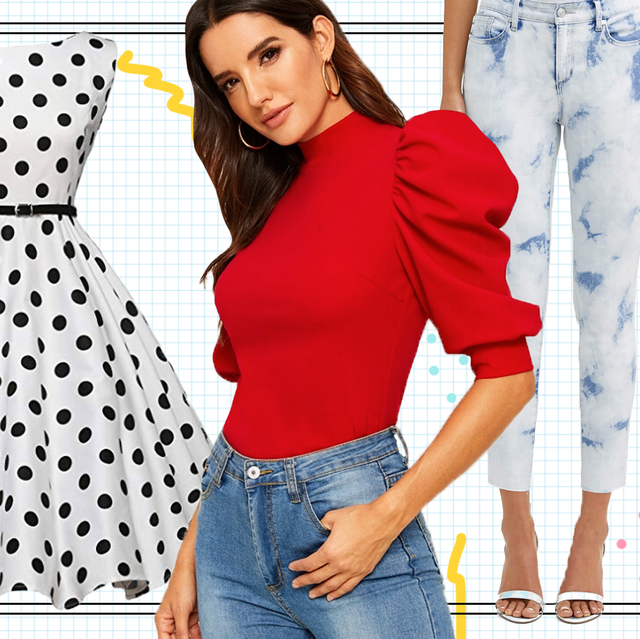 Shein
The '80s have gotten a bad rap when it comes to fashion — it's no secret that there were plenty of style lows (bad perms, leg warmers, stirrup pants, and blue eyeshadow just to name a few of the worst '80s style mistakes), but there were also some cute '80s fashion trends (yes, neon can be fun!). Now modern-day designers are embracing the decade by taking inspiration from the era of shoulder pads and big hair, but reworking the top 1980s trends in cool ways for 2019. Whether you're hunting for '80s costume ideas for Halloween or you're interested in incorporating some of the decade's hottest looks into your everyday ensembles, we pulled inspiration from recent red carpet looks to separate the good from the bad — and show you how to dress to excess in fresh new ways.
1 of 27
Pastel Suit & Sneakers
Cue the Miami Vice theme song! This candy-colored suit on Claire Foy still makes sense in 2020, thanks to the flattering cut and pops of white. Wear it with high-top sneakers or dress it up with fancy heels.
2 of 27
Get the Look: Pastel Suit
LISUEYNE
amazon.com
$69.99
This structured short suit is work appropriate, making this look extra versatile.
3 of 27
Get the Look: White Sneakers
We think every woman needs a classic white sneaker in her closet. They pair well with everything: suits, jeans, workout gear, or even a little black dress.
4 of 27
Colorful Leather Jacket & Statement Belt
Hats off to Celine Dion for embracing some of fashion's more intimidating throwback trends. Here she is the height of '80s chic in head-to-toe leather. We love the burgundy color of the jacket and the cinched waist adds extra polish.
RELATED: 13 Amazing Hairstyles from the '80s
5 of 27
Get the Look: Colorful Leather Jacket
If you think you can't pull off a red leather jacket, think again. This deep burgundy isn't too ostentatious and goes great with jeans or leather leggings.
6 of 27
Get the Look: Statement Belt
The width of this belt makes it look more expensive than it is, while the gold accent means you can pair it with black or brown accessories — so versatile.
7 of 27
Belt Bag
Never thought we'd see a belt bag on the red carpet. But Sarah Jessica Parker looks polished with this leather Chanel version. Note that this style of bag will be a game changer at any cocktail party — you can maneuver hands-free for the night.
RELATED: 20 Style Mistakes We All Made in the '90s
8 of 27
Get the Look: Belt Bag
The '80s versions were "Dad at Disneyland," but today's belt bags are more polished. This affordable crescent-shaped version is just the right size. 
9 of 27
Peplum Top
We love the cut of this bright pink top on Octavia Spencer. It's so flattering when paired with a simple pencil skirt and can also work well with jeans.
10 of 27
Get the Look: Peplum Top
This top comes in multiple colors and can be dressed up or down. Add a belt for a more polished look. 
11 of 27
Windbreaker & Statement Sunglasses
Jane Fonda made workout wear a thing back in the day. Gwen Stefani modernizes the track suit by pairing with jeans and statement sunglasses. It's kitschy, but still cool.
RELATED: 12 Best '80s Makeup Looks
12 of 27
Get the Look: Active Rain Slicker Jacket
This color-blocked windbreaker is the perfect layering piece. Pair with jeans or leggings for a casual weekend look.
13 of 27
Acid Washed Jeans
It's easy to veer into fashion victim territory with acid washed denim, but Charlize Theron tones it down with a polished blazer and pointy-toe pumps.
14 of 27
Get the Look: Ava Acid Cropped High-Rise Straight Jeans
AllSaints
us.allsaints.com
$60.00
This wash is subtle enough to match plenty of items in your wardrobe. Dress the jeans up with polished accessories or pair with a chambray shirt if you want to lean into the '80s look. 
15 of 27
Big Bow
Bows can sometimes read too young or girlie, but this number on Candace Cameron-Bure is super sophisticated thanks to the luxe fabric.
16 of 27
Get the Look: Big Bow
This affordable dress is a scaled down version that comes in multiple colors. 
17 of 27
Metallics
Lisa Rinna is pulling off an '80s trifecta with the graffiti jacket, metallic pants, and belt bag. Not an easy feat!
18 of 27
Get the Look: Metallic Pants
Amormio
amazon.com
$21.99
When paired with an understated top and simple strap heels, these shiny pants make just the most chic statement. 
19 of 27
Neon Hues
Neon is one of the more intimidating '80s trends, but Eva Longoria pulls it off thanks to the length of this dress and simple accessories.
20 of 27
Get the Look: Neon Hues
The sleek silhouette of this dress tempers the bold color. Pair it with gold jewelry and nude sandals for a chic tonal look. 
21 of 27
Puffy Shoulder Top & Statement Earrings
Dynasty was the gold standard when it came to '80s glamour. Here, Ashley Graham channels Alexis Carrington Colby while looking modern at the same time.
22 of 27
Get the Look: Puffy Shoulder Top
This is just enough sleeve puff to add drama without going OTT. For an evening look, pair with a sleek pencil skirt, or go more casual and wear with jeans. 
23 of 27
Get the Look: Statement Earrings
Stella + Ruby
shopbop.com
$40.00
Remember the White Diamonds commercial where Elizabeth Taylor takes her earrings off and says, "These have always brought me luck?" These are definitely channeling that vibe. 
24 of 27
Metallic Blazer
Metallics are definitely having a moment. We love the high/low treatment Jada Pinkett Smith is giving this gold number. Shine on!
25 of 27
Get the Look: Metallic Blazer
Nanette Nanette Lepore
amazon.com
$25.12
This silver blazer has a great boxy cut and looks so sleek when worn over an all-white ensemble — but you can also totally take a page from Jada's book and wear with jeans for an edgier feel. 
26 of 27
Polka Dot Dress
We love Jaime King's big polka dot moment. The one shoulder tempers the sweetness and the coordinating belt is on point.
27 of 27
Get the Look: Polka Dot Dress
GRACE KARIN
amazon.com
$31.99
When it comes to '80s-inspired polka dots, go big or go home. This graphic dress looks great with a pop of color (think yellow bag and shoes) and a bold red lip. 
Advertisement – Continue Reading Below
This content is created and maintained by a third party, and imported onto this page to help users provide their email addresses. You may be able to find more information about this and similar content at piano.io
This commenting section is created and maintained by a third party, and imported onto this page. You may be able to find more information on their web site.
Please follow and like us: